NEWS
KOŠICE NIGHT RUN 2019 HAS STRENGTHENED ITS POSITION AS THE MOST PRESTIGIOUS NIGHT RUN IN SLOVAKIA
Posted by: Administrator, 07.09.2019
On Friday (September 6th),
Košice Night Run
transformed the metropolis of the East into an unconventional but very attractive running track, where thousands of a healthy lifestyle and running enthusiasts were part of.
Almost 1700 runners entered the eighth year of the run and more than 200 children from Košice elementary schools joined the group, which is already a great tradition of the event. The illuminated ten-kilometre track was complemented by music, whether coming from musical stages or thanks to the drum show Campana Batucada and Bubonz. A novelty, which was appreciated by runners and visitors, was pyrotechnic effects in the form of fire escorts, which made the track even more attractive. Smoke bubbles in the vicinity of Immaculata were a pleasant diversification of the run.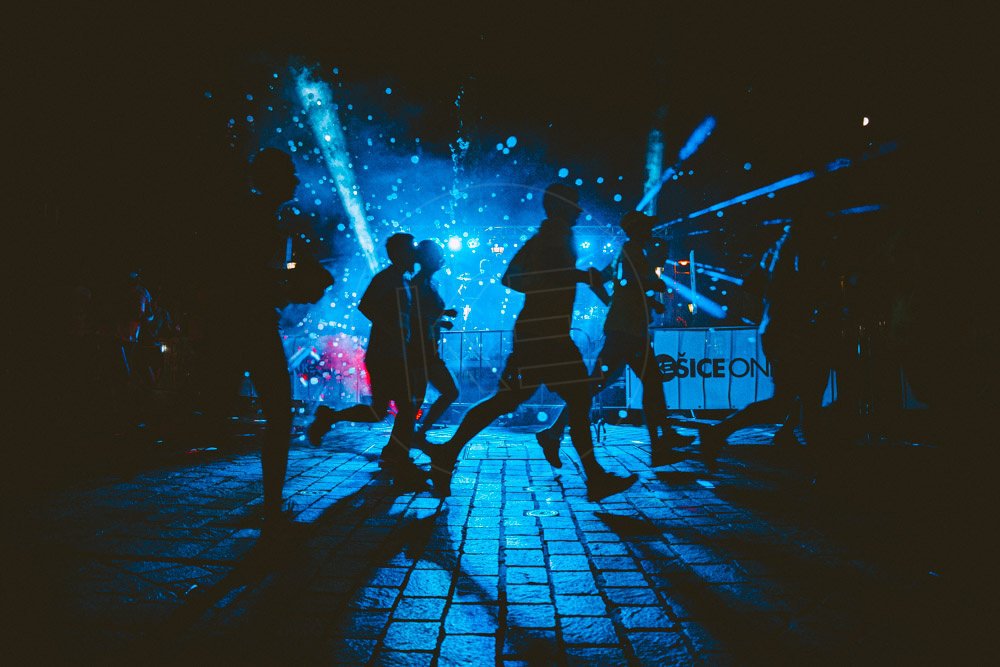 Košice Night Run confirmed its strong position also in its eighth year. "The standard of running in Slovakia is that they have their ambassadors, significant personalities. We have decided since the first year, and we are very happy that after eight years it has been confirmed, that all our runners are our ambassadors. Because for us they are those personalities," said the main organizer of the event Marek Petráš from Radio Košice.
"Many thanks go to all fans that encouraged athletes, and last but not least, thanks go to runners who confirmed that Košice Night Run is the most prestigious night run in Slovakia,"
added Petráš.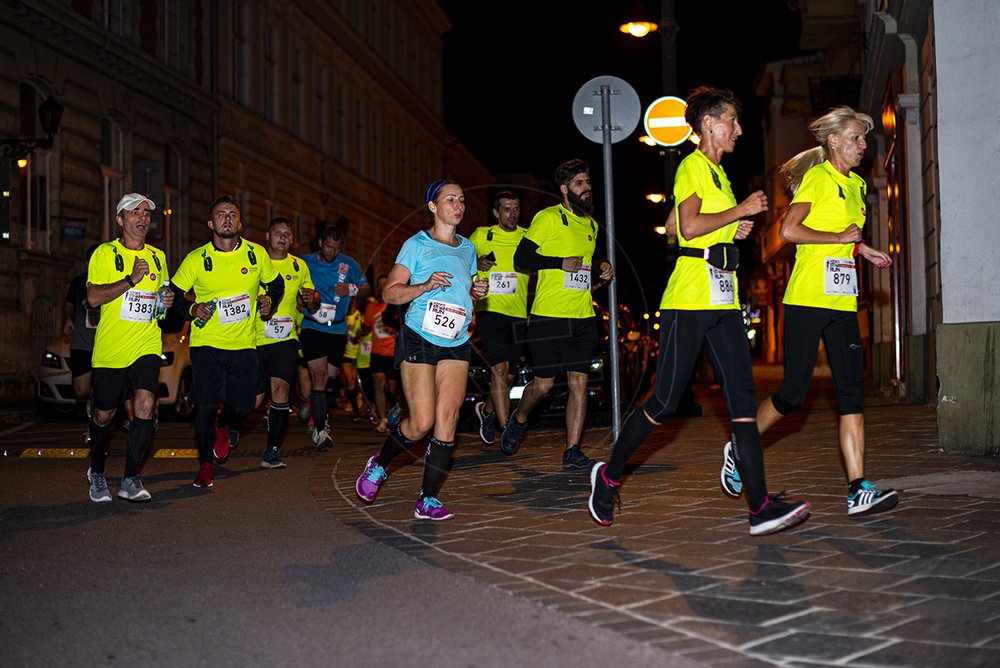 SURPRISES AT THE TRACK
The eighth year brought some precious moments. At least for those, who did not know that they would also receive a family ticket to Düsseldorf from Košice Airport and Eurowings. Luck pleased the fastest children, but runners of the ten-kilometer track will also be delighted. We will reward them during the broadcast in Radio Košice on the second week of September. Many were surprised by Juraj Barbarič, a well-known strongman, who decided to do a good thing. He was the last to step on the track with a garbage can, which he skilfully rolled the entire route. His performance will be valued by the company he works at by helping patients with muscular dystrophy.
Let us not forget the nice group of runners who sought the attention with the slogan on T-shirts "Help the poor." Oasis - hope for a new life, thus draws attention to the poor, which we should not close our eyes to.
"I always wear this shirt to make people notice that in this society today, in which we can say it's good and established, we are rich, but there are also people who are poor. Or they are in misery and they need to be helped so that we can all notice and in any way help these people,"
said Roman Catholic priest Peter Gombita.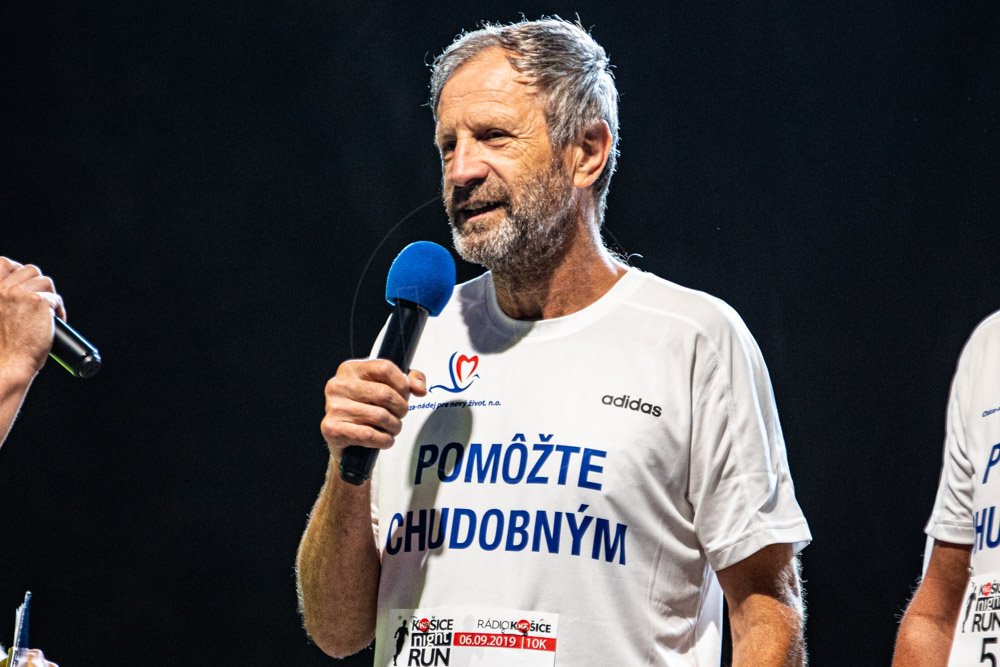 THE FASTEST MEN AND WOMEN
The historic centre attracted almost two thousand runners. The medal was granted to anyone who finished, but also the fastest of all were awarded. In the women's category, five times triathlete of the year,
Romana Gajdošová
won with time of 00:38:23.
"I was planning a heavy cross-country training today, so I thought I'd go to Košice. With people being here, it passed faster. As I didn't have to go full speed, I enjoyed it, "
said the winner with a smile on her lips. Immediately behind her arrived a runner from Norway
Christina Forsberg
with time of 00:39:06 and third in the women category finished
Andrea Hudáková
with time 00:42:22.
The fastest in the men's category was
Radovan Tomeček
with the time 00:32:47:
"I also thank Košice for organizing such a race where I could participate. The track has an incredible feeling and there is a great atmosphere in Košice. It is always great to run here, I often practice here. My home club TJ Obal Servis Košice is also here. Thanks to the club and coach Pavel Madár. This race is great,"
said the winner immediately after the finish.
Jaroslav Szabo
, who won a silver medal in 00:33:55, arrived right behind him. The third place went to
Michal Lami
with a time of 00:34:34.
The teams were also very fast. The first was
TJ Obal Servis KE
with 00:33:20, second was
BEKELE Košice
with 00:35:22 and third was
ESET
with 00:37:10.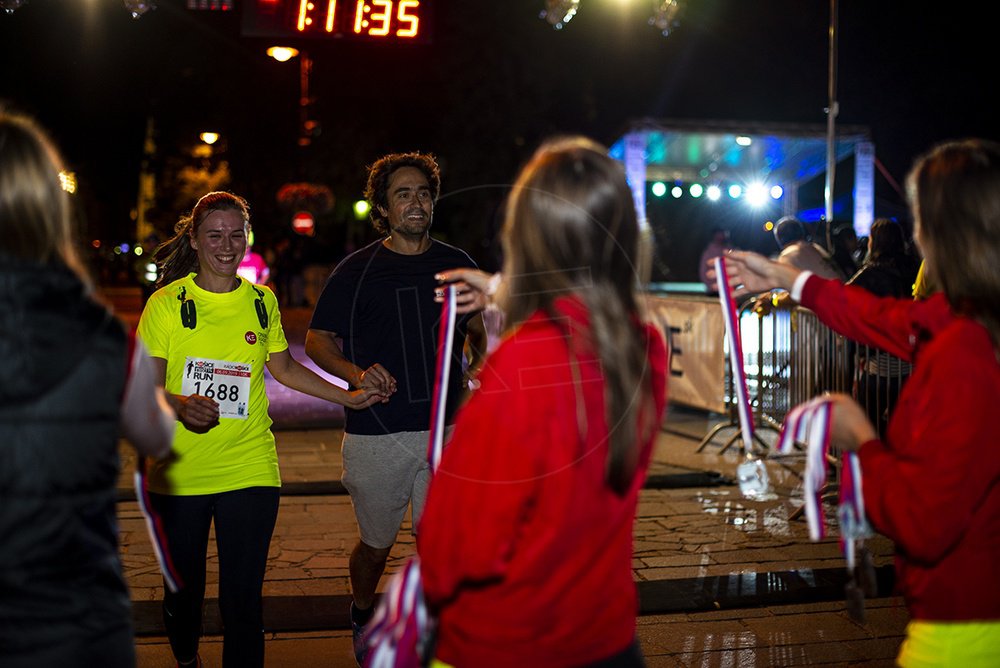 THE SMALLEST AND FASTEST
Elementary school pupils also ran in the center of Košice on Friday.
Lukáš Krakovský
from Jenisejská Elementary School finished first on the five-kilometer circuit. The second place was awarded to
Tomáš Adamovský
from the Jenisejská Primary School and the third place belongs to
Alex Tóth
from the Lechký Primary School.
Of the girls, the fastest was
Stacy Mária Žeňuchová
from the Evangelical Grammar School J.A. Comenius, second was
Petra Bondrová
from Trebišovská Primary School and third was
Dália Šoltésová
from Lechký Primary School. We cannot forget that all children are winners and we could all take an example of their joy on the track.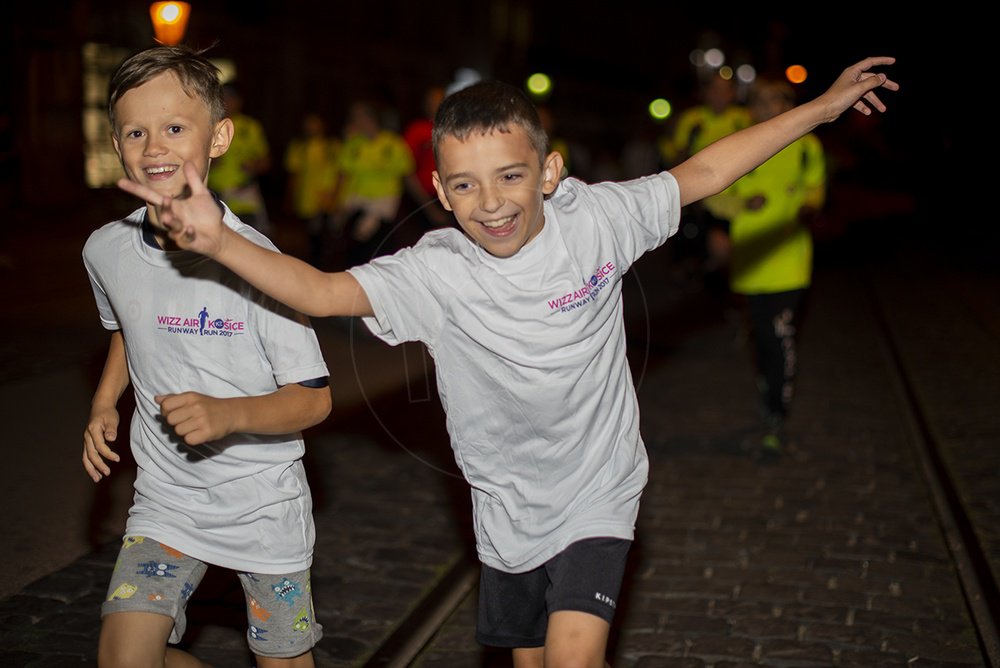 THERE ARE NEVER ENOUGH SURPRISES
There was also an opportunity to win air tickets
at Košice Night Run, which were donated by the partner of the run Košice Airport. In just a few days, we will be able to find out directly on air at Radio Košice, which two runners will receive two return tickets to Düsseldorf with Eurowings. Let's not forget that the fastest boy Lukáš Krakovský and fastest girl Stacy Mária Žeňuchová won a family ticket to the same destination. Both did not hide emotions.
The weather was also good this year, however the best background was again created by runners and visitors. The main organizer of Košice Night Run is Radio Košice, which has already confirmed next year`s run:
"We are very happy that we have accomplished the eighth year, we are looking forward to 2020. We already know that on April 25 we will welcome all fans of running in Košice, at the Košice Runway Run event, immediately after that we will return to the centre of Košice and enjoy the ninth edition of Košice Night Run, which is on the program on September 4, 2020,"
concluded Petráš.
PHOTO GALLERY I. | PHOTO GALLERY II. | PHOTO GALLERY III. | VIDEO | RESULTS


---------